Name : Lee Junho
Role in 2PM : Main Vocal, Dancer
Nickname : Hwang-jae (Emperor)
Date of birth : 25th January 1990
Height : 178cm
Weight : 67kg
Blood Type : A
Religion : Christian
Languages : Korean, English (in order of fluency)
School : Howon University
Hobbies : Music appreciation, Watching dance videos, Studying composing, Reading, Looking at fashion styles, Surfing the net
Specialties : Dance, Beatbox, Singing
Ideal Woman : A girl who will take care of her kids well
Fav Food : All the food
First Seen : 2006 Superstar Survival
Shows : Superstar Survival (2006), Mnet Hot Blood (2008), MBC Idol Army (2008-2009), Mnet It's Time 2PM (2009)
Lee Junho is a vocalist and dancer from the popular korean seven-member boy band 2PM from Seoul, South Korea. 2PM broke through the entertainment industry with their first single "10 points out of 10″ on September 4, 2008. Junho earned a contract with JYP Entertainment after he won a contest in JYP's Superstar Survival in 2006.
Lee Jun Ho is the youngest member of the group after Hwang Chan Sung.
Lee Junho of 2pm looks alot like Rain/Bi. His ideal woman is someone who plans for a child. His specialties are singing, beatbox, and dancing. He enjoys listening to music, watching dancing videos, learning composing, reading, and reading fashion. He graduated from Ho Won University – Program Acting Major.
Junho was first known by the public as the winner of Superstar Survival. The show started with 12 teens and as the weeks goes by, they were eliminated one by one until three are left. Somewhat reminiscing of Survivor. Along with Chansung and Taec, the show intended to find potential artists that could be part of the JYP family. During the show, Junho was perceived as the cocky naive teenager.He then became part of JYP's project group Hotblood which eventually became One Day which is then split into 2am and 2pm. Mnet even did a show about them.
In interviews, Junho has always stated that his forte is dancing. It's actually obvious since he's the only one who can actually keep up with Jaebeom. But I think his singing isn't that bad. He is one of the few idols who can actually sing and dance at the same time. The first time I noticed his singing was when he and Junsu guested in a singing program. He sang Suhsi by Shin Sung Woo. That was a very difficult and high song but he pulled it off. He really pulled it off. He has a very nice tone in his voice seriously. Wooyoung and Kyu Hyun has one too.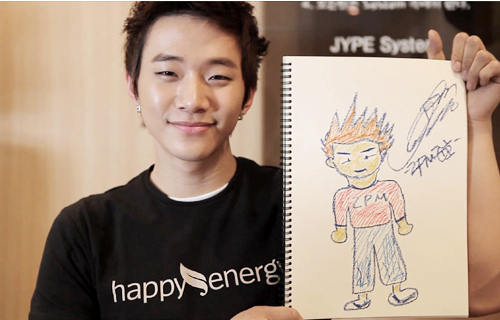 2PM's Lee Junho has always been known to have a strong resemblance to Rain. But his talent goes more than just his looks. When I first saw the live performance of 2PM's second single "Only You," it was Junho who stood out the most. Jay is my fave but I think he was the most stable singer-and-dancer—because he was moving smoothly, doing acrobatics and all while still displaying stable vocals. Being rookies that they were, some of them still looked a bit awkward, like for instance, resident cutie Khun seemed a little like a deer-in-headlights during his part of the song. Back then he still needed to work on his facial expressions, so did Wooyoung who was concentrating so much on his dance moves. Nevertheless "Only You" was a great song and it's great to see 2PM's huge improvement since then. But Junho, in my opinion has always been real good, it was as if he was performing his whole life!

Lee Junho Fact
- Lee Junho has awesome smile.
- Lee Junho is RAIN-lookalike
- Lee Junho is an incredible dancer and an amazing performer.
- Lee Junho winning the "JYP's Superstar Survival" talent search in 2006, he got 1st beating 6,000 competitors.
- Lee Junho is called the Emperor and Nuneo because he typed his name fast once and it appeared wrong as Nuneo and the fans decided to keep his fail.
- Lee Junho really loves animal, especially puppies and cat.